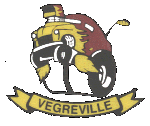 History of the Iron Runners Auto Club of Vegreville:
The Iron Runners Auto Club of Vegreville is dedicated to preserving the automotive spirit and motoring history. The club has been in existence since 1989. In its first year of existence, it was known as the Vegreville and District Special Interest Car Club. After that first year, we became known as the Iron Runners. Along with our new name came a new logo, which is very well known among the various car clubs throughout Western Canada.
The Iron Runners began with 12 members in its first year. By 2009, we had 36 members, many of which are husband and wife and in a few instances, families.
The club's first Show and Shine had approximately 40 vehicles in attendance. Since 1992, the Club has been holding a Fathers' Day Show and Shine in conjunction with the Vegreville Agricultural Society, on the Fair Grounds. This annual event is called the "Fathers' Day Event" and has corporate sponsorships arranged through Daniel Beaudette of the Vegreville News Advertiser, a local paper.
Of the original 25 charter members, three are still active in the Club.  They are Denise Komick, our Treasurer; Orest Lazarowich, our Vice-President; and Jerry Wilde.
The Iron Runners sponsor a scholarship, in honour of the late Sylvester Komick, a founding member of the club.  The Scholarship is open to any grade 12 student in the Vegreville area who is continuing studies in any one of  the fields of Automotive Mechanics; Heavy Duty Equipment Mechanics; Agricultural Mechanics; Auto Body Mechanics; or Auto or other Parts Technician.  The scholarship is worth $600.